Tourism and it's Affect on the Dominican Republic's Environment, Economy, and Society
By: Carlyn Thompson
The Dominican Republic (DR) is the second largest nation in the Caribbean. Offering 18,172 square miles full of rugged highlands and mountains interspersed with fertile valleys as well as 800 miles of coastline (CIA World Factbook). The varied terrain makes it a unique nation in the Caribbean and an attractive tourist destination. The DR is located on the eastern two-thirds of the island of Hispaniola, between the Caribbean Sea and the North Atlantic Ocean, east of Haiti. Located in the heart of the Caribbean it is also a convenient distance from major cities.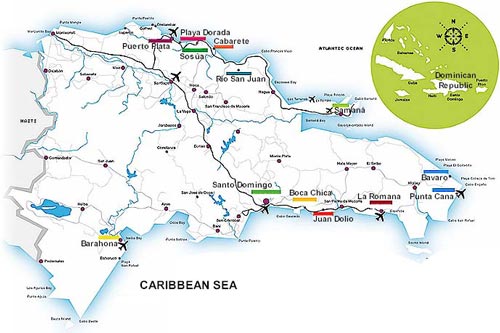 The DR can be reached by air in less than two hours from Miami, slightly over three hours from New York and less than an hour form San Juan, Puerto Rico (Dominicanrepublic.com). The island offers a tropical maritime climate with little seasonal temperature variation (CIA World Factbook). Making it an attractive destination year-round. In recent years the country has been known for not only it's attractive terrain, location, and climate but also it's hotel accommodations, all-inclusive resorts, golf courses, and beach access.
---
Accommodations
The National Hotel & Tourism Association reports that there are 723 hotels with a total of 69,816 hotel rooms in the Dominican Republic as of December 2015 (NHTA). You can find the complete directory of the hotels here.
Click here to observe the Interactive Map of the DR. This includes airports, seaports, golf courses, hotels, beaches, landmarks and cultural tips.
Over 95 percent of the resorts operate under the all-inclusive enclave model (NHTA), and over 60 percent also use time-share allocation (NHTA). Enclave resorts have a reputation for being "gilded ghettoes"⎯ segregated spaces that exclude Dominicans while providing luxury accommodations to foreigners (Cabezas, Tropical Blues 29). These all inclusive resorts are transformed into small cities, developed with every possible amenity and no need to leave the gated community.  They have come to represent, "foreign, exclusive spaces that keep tourists from seeing the local poverty that might make them uncomfortable" (Cabezas, Tropical Blues 29).
---
Visitors
In 2015, 5,599,859 non-resident foreigners flew to the Dominican Republic. Most air arrivals landed at the Punta Cana airport with 52.1% of all air traffic. Santo Domingo was the second destination of arrivals with 28.2%, followed by Santiago with 10.3%, Puerto Plata at 6.4%, La Romana at 1.7% and Samaná with 1% (NHTA).
A further 766,903 non-resident Dominicans also chose to visit in 2015 (NHTA). The seaport at La Romana experienced the most amount of visitors with 345,764 passengers. While Santo Domingo had 85,710 passengers visit, next Puerto Plata with 60,046 passengers and finally Samaná with 58,430 passengers (Go Dominican). The following shows the amount of tourists and where they arrive from:
| | |
| --- | --- |
| | Nationality of Tourists Visiting the DR by Air |
| United States | 41.40% |
| Canada | 15.40% |
| Germany | 5.10% |
| France | 4.70% |
| Spain | 3.60% |
| Venezuela | 3.50% |
| United Kingdom | 2.90% |
| Brazil | 2.90% |
| Argentina | 2.80% |
| Puerto Rico | 2.40% |
| Italy | 1.80% |
| Colombia | 1.60% |
| Russia | 1.50% |
| Belgium | 0.80% |
| The Netherlands | 0.80% |
---
Tourism is a growing industry and this past year has seen a consistent increase in consumerism worldwide. International tourist arrivals grew by 4.4% in 2015 to reach a total of 1,184 million, according to the latest UNWTO World Tourism Barometer (UNWTO). Some 50 million more tourists (overnight visitors) travelled to international destinations around the world last year as compared to 2014. Therefore, 2015 marks the 6th consecutive year of above-average growth, with international arrivals increasing by 4% or more every year since the post-crisis year of 2010 (UNWTO).
"International tourism reached new heights in 2015. The robust performance of the sector is contributing to economic growth and job creation in many parts of the world. It is thus critical for countries to promote policies that foster the continued growth of tourism, including travel facilitation, human resources development and sustainability"  – UNWTO Secretary-General, Taleb Rifai
This website will explore the affects of the tourism industry on the Dominican Republic and will attempt to weigh the costs and benefits of tourism on the environment, society, and economy.